Love using fruit that I grow, grows wild or I can buy organic, organic is what I have for my strawberry Jam... I can't seem to get but 2 or 3 strawberries from my yard, between the rabbits and the chipmunks -
It is a battle I have yet to win! urrgh.....
Flash Frozen Strawberries
I had several frozen bags of freshly picked strawberries and wild blackberries from last season... nicely tucked away in our freezer...
Spring fruit will be out soon - I decided to make some goodies with last seasons fruit... First up is the Frozen Sherbet... using my new ice cream machine.. I have had and used several machines... the basic - freeze the bowl, the very nice generator machine, Now, I went back to a basic rock salt machine.
Ice Cream Maker
The mixture for the Sherbet is complete and now cooling off! - Can't wait!!! Off to store to get extra ice...just in case.
Wild Berry/Strawberry Sherbet Mixture
Set up real nice! yummy!!!
I made a small batch of mixed berry jam too! had left over wild berries from the making of Sherbet... so I will use it all up (no waste).... I love my
Ball® FreshTECH Automatic Jam & Jelly Maker
.. It is perfect for using leftover fruit for small batches of jam
A pinch left over....
Small jars of Luscious Mixed Berry Jam
Toast with butter and fresh jam -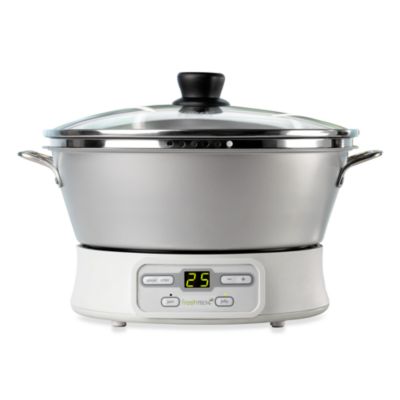 Fresh-tech Jam and Jelly Maker
Y'all have a wonderful spring! - I plan to enjoy every minute of every warm sunny day!